Polycystic kidney disease (PKD) is one of the most common, life-threatening genetic diseases. It affects thousands in America and millions worldwide, who are in urgent need of treatments and a cure. One of those impacted is our very good friend at Southern Painting, Dale Altenhofen. He is the reason we walk; do you have someone in your life who is impacted by this?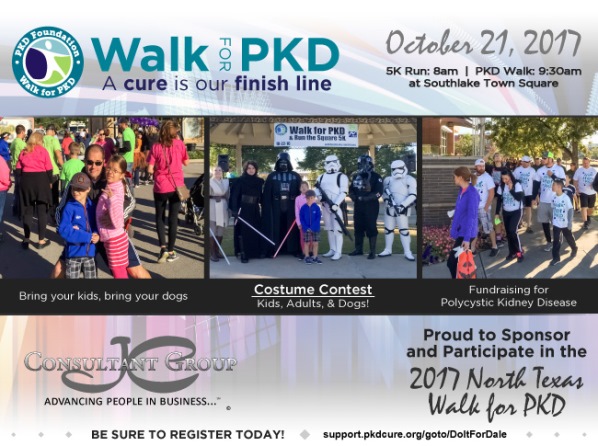 The PKD Foundation is the only organization in the U.S. solely dedicated to finding treatments and a cure for PKD to improve the lives of those it affects. They do this through promoting research, education, advocacy, support and awareness on a national level, along with direct services to local communities across the country.
The Walk for PKD is your chance to make a difference in the lives of hundreds of thousands in America, and millions worldwide who have poly-cystic kidney disease (PKD).
100% of each donation funds life-saving research. Walk with us so we can bring treatments to patients faster. This very brief video will tell you more about JC Consultant Group's efforts to help.
Meet Max Altenhofen, who is preparing for this year's walk. As you can see, he is dressing for the occasion.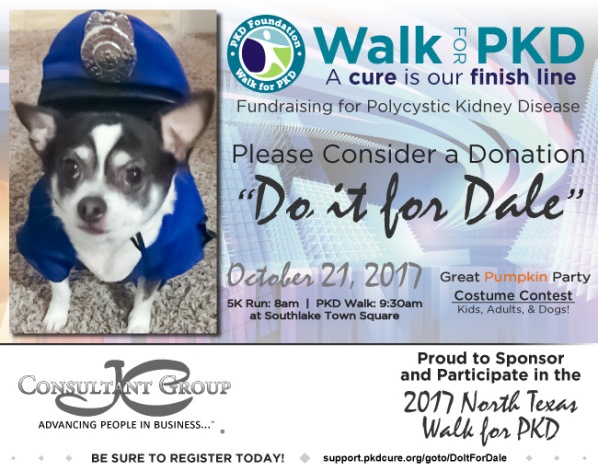 Max has quietly been looking after his family for years now, and would do anything to help Dale in the fight against PKD.
In his role as family caretaker, Max is very gently begging that you please consider a donation to support the research into a cure.
You Have Questions; We Have Answers
If you would like to know more about PKD, or more about how to get registered for the 2017 Walk for PKD, we have collected some very useful information to help you. Just click on any of the following links to get directly to the details you need.